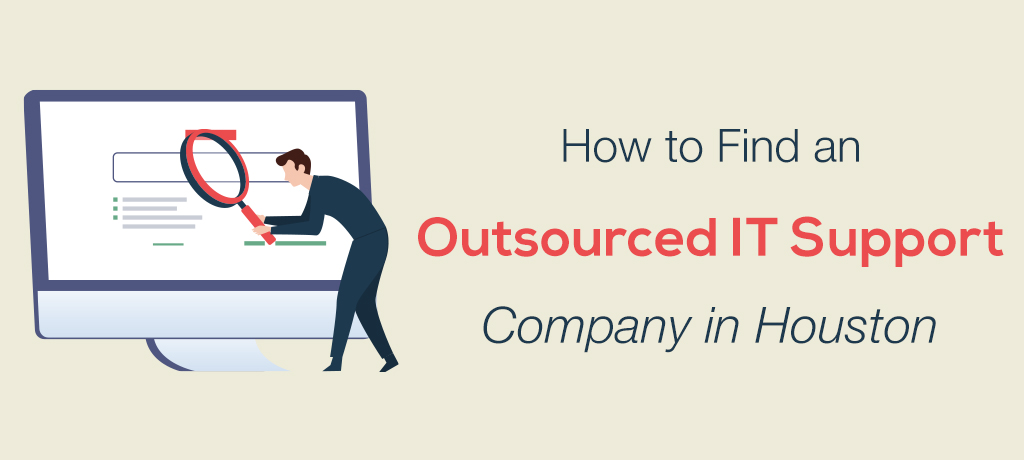 How to Find an Outsourced IT Support Company in Houston
When it comes to regions with thriving economies, Houston is hard to beat. Together with Austin, Dallas-Fort Worth, and San Antonio, the city forms the Texas Triangle, which is set to become the world's fifteenth largest economy. Additionally, twenty-two companies featured on the 2020 Fortune 500 list are currently headquartered in Houston.
The perks don't end there. Houston is a magnet for SMBs, courtesy of its low cost of living, highly qualified/affordable talent pool, an array of resources, and pro-business local laws.
To top that, Houston companies raised $433.5 million in venture capital funding within the first quarter of 2021. The four-quarter total ending at the end of Q1/2021 amounted to $1,035 billion, a record-high for the region.
With such incredible benefits, all you need is a robust tech infrastructure to make your mark on Houston's flourishing commercial ecosystem.
Let's take a look at how technology can help you carve a niche for yourself.
The Importance of Technology
Small businesses must think on their feet to win against the big names in their market. In this regard, leveraging technology can help by:
Fostering innovation.
Enabling sound decision-making.
Enhancing internal/external communication.
Ensuring better finance management.
Improving branding campaigns
Why IT Support and Technology Go Hand-in-Hand
At the end of the day, your IT framework is a complex web of physical/virtual peripherals. It takes skill and expertise to operate it at full throttle.
As reducing expenses is at the heart of effective financial planning, you may be tempted to run your IT network on your own. However, this may not be the best move.
There is a lot more to IT management than fixing technical glitches. It's easy to get overwhelmed, especially if you are unsure about what you're doing. And, a malfunctioning tech network is a gateway to multiple business troubles, including:
Network downtime.
Network security issues.
Loss of employee satisfaction.
Loss of repeat business.
Reduced profitability.
Therefore, you'll be better off hiring professionals, collectively known as an IT support team, to handle your tech. Tech support usually refers to comprehensive IT management offered by technicians who are either in your employment or part of an external firm (outsourced IT support).
What is Outsourced IT Support?
Labor accounts for nearly 70% of total business costs. While you need competent people to keep operations running smoothly, it is difficult to recruit more people on a tight budget.
For business leaders in Houston, the cost of hiring a tech support specialist in-house is as high as $54,354 a year. Shelling out this amount for multiple IT technicians can send your overhead expenses for a toss.
On the other hand, teaming up with a Houston IT support company is a significantly more cost-efficient option. In this arrangement, you offload your internal IT operations to an external tech provider, paying them a flat fee for their services. This saves you the headache of adding more people to your payroll, hence increasing overall profitability.
Most IT companies offer:
Round-the-Clock network monitoring.
Network administration.
Virtualization services.
Cloud computing and migration services.
Preventative maintenance.
Data backup and recovery options.
Comprehensive cybersecurity models.
Tech vendor management.
Is External IT Support Beneficial?
The market for managed IT services (another term for external IT support) is set to stand at $1.1 trillion+ in 2021, exhibiting its growing popularity with organizations across the globe.
Needless to say, not all companies spend on outsourced IT support because they cannot afford an internal IT team. In fact, an IT firm can easily work in tandem with your salaried tech employees. They take over repeatable tech operations, which, in turn, enables your in-house IT staff to focus on improving core business processes.
There are several other advantages of hiring Houston IT support, such as:
Access to a Whole Team of Industry Experts
A vast majority of recruiters agree that there is a huge tech talent gap in the industry, which has led to several companies vying for the right candidates. If you don't run a tech company, you may find it difficult to find and retain top-notch tech talent. Alternatively, you may lose quality tech workers to the bigger brands in your zone.
When you hire an outsourced IT support agency, you essentially get multiple qualified and trained people to work for you. Most managed services providers (MSPs) hire only the brightest minds in IT, who have the requisite skills and certifications to manage your tech well.
Plus, a competent tech team will also be able to advise you on various aspects of IT, enabling you to improve your overall efficiency and transform your IT infrastructure for the better.
Improved Business Productivity
A Houston IT support firm will help you streamline your workflow, improve internal communication/collaboration, and effectuate real-time data sharing. Simply put, they will optimize your tech network to maximize business productivity, ensuring that you make the most of your business hours.
Also, the outsourced IT support provider will take care of every aspect of your tech infrastructure, leaving you to focus on your responsibilities as a business leader. That way, you will be able to meet deadlines and deliver faster better results.
Full-Scale Cybersecurity
In April 2020, the tech giant Cognizant was hit with the Maze ransomware, with the criminals demanding a hefty ransom in exchange for the stolen information. In the end, the company reported having spent $50-70 million to retrieve the information and restore operations.
Also, according to the Cost of Insider Threats: Global Report 2020 by IBM Security, small organizations with less than 500 employees paid an average of $7.68 million for insider threat-related cybersecurity incidents.
With these examples, it is easy to see the grave financial turmoil that comes with a network security breach. Most SMBs may not be able to survive such expensive aftermath.
An efficient outsourced IT support firm will set up a host of preventative protocols to ward off cybersecurity threats. They will bring in expert cybersecurity analysts to secure your data, install enterprise-grade antivirus programs, and run regular checkups to spot security gaps. In other words, an MSP can keep malicious cybersecurity threats from bringing your business to its knees.
Latest Technology at Affordable Rates
It's often difficult to keep pace with the rapidly evolving tech world. Furthermore, new technology costs a fortune, enough to burn a hole through your pocket. However, with an MSP, you can quit worrying about keeping up with the changing times.
Most outsourced IT support providers use the latest tech tools to service their clients. As a result, you won't have to spend wads of cash in acquiring them for your business. Also, reliable IT firms have long-standing relationships with renowned tech providers and can get you good deals/discounts on tech products.
Quick Response to Network Issues
Few things are as frustrating as a tech outage during peak hours. If you don't get your systems up and running immediately, you risk losing:
Revenue.
Customer satisfaction and trust.
Brand reputation.
Sales opportunities.
You will need an IT team on continuous standby to address technical glitches as soon as they take life. An outsourced IT support agency can bring you this in the form of 24/7 helpdesk support. Here, the technicians get real-time updates of system issues and resolve them as quickly as possible. They can also send engineers to your office if need be.
A Guide to Finding the Right IT Support Provider in Houston
Given Houston's fertile digital industry, companies offering IT services flood the market. Locating the right IT provider amidst the sea of choices can be a daunting task.
If you are looking for Houston IT support, be sure to check for:
Experience and Market Reputation
An experienced MSP with a proven track record is more likely to deliver quality customer service, simply because they must live up to the name they have created. Be sure to run a background check on your prospective MSP. Check their list of clients, study neutral websites for honest feedback, and ask your acquaintances for their opinion on the provider's services. Once you're completely sure of the MSP's credibility, you can enter into negotiations with them.
Cloud Services
Cloud computing is slowly gaining traction in the digital world. If you haven't moved your operations to the cloud yet, you may have to sooner than you think. Hire an MSP who has enough experience with cloud management/ other relevant services and can facilitate a smooth transition.
Fast Response Times
In the event of a network failure, you do not want to be waiting for your outsourced IT support team to show up. The MSP should be able to tackle issues of various intensities with equal speed and efficiency. They should be available any time you need help, whether it's onsite support on remote assistance.
Check the Service Level Agreement (SLA) for any uptime guarantees your MSP may offer. In case they fail to deliver the expected uptime levels, you may be entitled to reimbursements.
Strategic IT Consultants
Distinguished outsourced IT support agencies see themselves as an extension of your organization. As a result, they will do their best to scan your networks and suggest improvements. Look for tech firms with a host of industry experts in their teams. They will provide you with valuable insight on how you can manage your IT better.
All-Round Support
Most MSPs charge their clients based on the service level they settle for. Have an open discussion with your outsourced IT support firm on what is and what's not included in the list of services they offer. This will minimize the risk of hidden costs and help you control your IT budget more effectively.
Conclusion
Timely and efficient IT support can help your business scale new heights of success. An external IT company provides small businesses with an excellent way to streamline IT operations without exceeding their budgets. The MSP will also identify and resolve potential network problems before they affect your business, thus ensuring that you're never offline for too long.
Can outsourcing IT support help your business grow? Can TechPulse help you with IT support? Let's find out more about our offerings together.